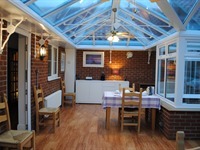 Breakfast
Breakfast is served between 06:00 and 10:00 in our light and airy conservatory adjacent to the guest rooms.
Whilst browsing the breakfast menu, guests are served their choice of a pot of tea, or a cafetière of coffee.
Once you have placed your breakfast order, guests are invited to help themselves to a selection of fruit juices, breakfast cereals & yoghurt.
If you're feeling really healthy, then fresh fruit salad and porridge are also available on request.